Holiday rentals Motz
Book your holidays in Motz
Aucun résultat ne correspond à votre recherche
Toutefois, voici d'autres propositions qui pourraient vous intéresser
Holiday rental Motz
Motz in Savoy, a small village of wide-open spaces
With just 435 inhabitants, the village of Motz, located in the Chautagne area, in the Savoy department, is the perfect place for tasting the local delicacies and discovering the wonders of the region. Start with the lakes: lac du Fier, lac de Serrieres, lac du Bourget and lac d'Annecy, all located nearby your Chanaz holiday rental (Motz).
There's something for everyone at your Chanaz holiday rental
Besides skiing in the winter, you won't believe how much there is to do in the region. Booking holiday accommodation in Motz, Savoy is your ticket to a stay jam packed with activities. Enjoy walks, paragliding and boat trips. Because Savoy is more than just mountains, there is also a great number of lakes.
In the mountains, you can enjoy some hiking, as well as mountain biking, rock climbing and via ferrata. In between relaxing sessions beside the lakes, try some water sports like stand-up paddle boarding, wakeboarding, water skiing, wind surfing and pedalos. Not forgetting a visit to Annecy and Geneva, nearby your holiday rental in Chanaz.
Holiday Village Le Village des Oiseaux : your Chanaz holiday rental, in Savoy
In Motz, the holiday village Le Village des Oiseaux offers rooms and apartments able to welcome up to 6 people for your stay as a family or among friends. Located just a stone's throw from a conservation area, this holiday accommodation with a kids' club in Motz is even a recognised bird sanctuary (French League for the Protection of Birds). Thanks to the Vacanceole Group's commitment to preserving our environment, you'll enjoy a wonderful eco-friendly stay in Savoy!
Nearby shops and services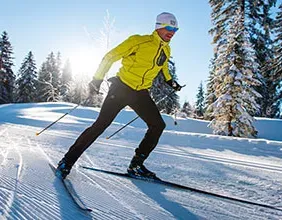 Grand Colombier
Le Grand Colombier is a very popular pass for cyclists and a mythical stage of the Tour de France. In summer you can go hiking there and in winter you can put on your cross-country skis and enjoy the slopes!
Did somebody say water ?
In Motz you are surrounded by lakes so plan to have paddle afternoons or picnic evenings on the lake with sunset on the mountains. Why not go to the Jardins de L'Europe on Lake Annecy and take the opportunity to visit the city.
Canoeing and Kayaking
One thing to do right next to your accommodation is to go canoeing down the old Rhône. Cross the Natura 2000 reserve of the Malourdie islands, go through rapids and watch the beavers!
Our most beautiful destinations
Your holiday rental in Motz