4 bis, avenue du Serrat de l'Ours
66210 BOLQUERE
FRANCE
High season and school vacations
From the start of the (French) end-of-year vacations to the end of the (French) winter vacations and from early July to early September
Daily from 8am to 11am and from 4pm to 7pm
Low season outside school vacations
From early December to the start of the (French) end-of-year vacations and from the 1st Friday in June to the end of June
Daily from 8am to 11am and from 4pm to 7pm
Arrival from 5pm
Departure until 10am
In case of late arrival, please call +33(0)4 68 30 85 30
Faire un itinéraire
By train
Font Romeu-Odeillo-Via SNCF station - 7 km
By plane
Perpignan-Rivesaltes Airport - 89 km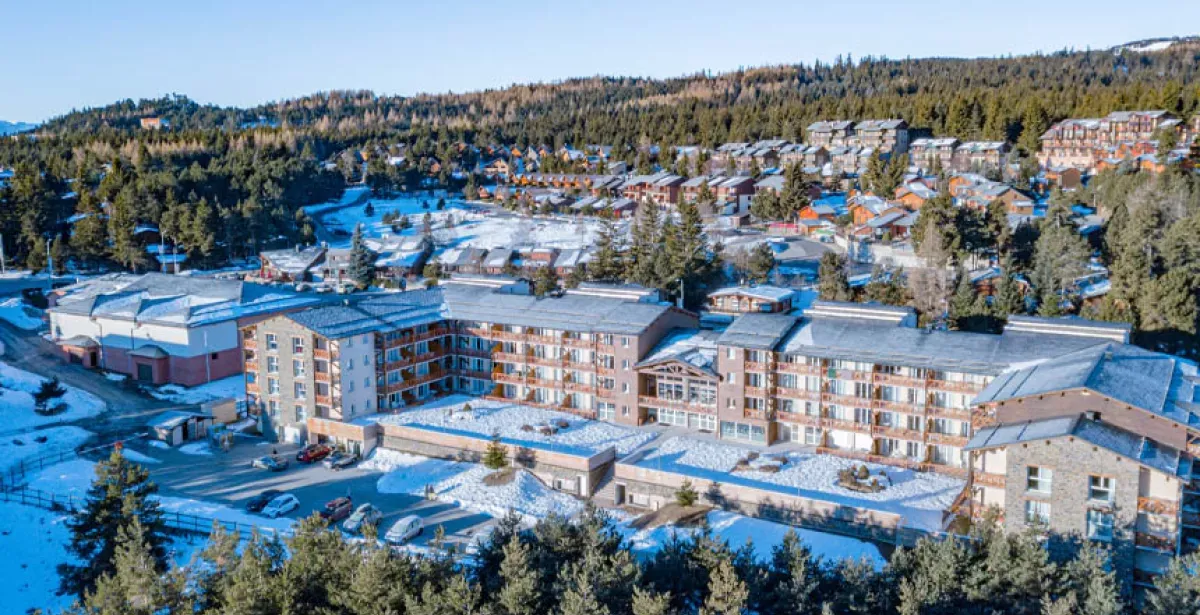 Residence Appart Vacances Pyrénées 2000***
Font Romeu / Pyrenees 2000 - Pyrenees
Holiday residence - Holiday apartment
88%
of our customers recommend this establishment.
Outdoor car park
WIFI (low-speed)
Baby cot and baby chair
Cleaning kit
Bathroom kit
Air conditioning
Services included or optional
Our types of accommodation
The options
1 pet max per apartment (Dogs of category 1 & 2 prohibited)

On request, currency exchange at the same rate (rate per bed, not per person).

1 bath towel and 1 hand towel per person. Upon request, currency exchange at the same rate.

Except kitchen and dishes.

Accommodation type 4 people : 70 €
Accommodation type 6 people : 90 €
Accommodation type 8 people : 130 €

If the cleaning service has not been booked and the accommodation is not returned clean, a cleaning charge will be made on your deposit:

Accommodation 2 people : 60€
Accommodation 4 people : 100€
Accommodation 6 people : 120€
Accommodation 8 people : 190€

Towels + sheets + end of stay cleaning. On request, change of sheets and towels at extra cost.

Accommodation type 4 people : 135€
Accommodation type 6 people : 175€
Accommodation type 8 people : 235€

Sauna, Steam room.

10€/ hours / 2 people
3€ / hours / additional person
16€/ week/ additional person

5,5€ per child (4 to 12)
Free for those under 4

Arrival from 11 am (subject to availability).

Recharging for electric cars

Payment at the reception.

9€/ total electric charge

Raclette or fondue machine
Deposit and taxes
Deposit : 300€/accommodation, reimbursement at the departure after the inspection of the place.
Tourist tax: 0,70€/day/person above 18 (18 included)
Opening dates
from

01/12/2023

to

02/04/2024

from

31/05/2024

to

15/09/2023
Appart'Vacances Pyrenees 2000***: holiday apartment near Font-Romeu
In the heart of the village of Bolquere Pyrenees 2000, your stay in our residence, located just a few kilometres away from Font-Romeu, will be the stuff of envy! The programme in this totally comfortable modern resort includes: relaxation and multiple activities, whether in winter or summer, for the whole family!
Appart'Vacances Pyrenees 2000***: treat yourself during your Pyrenees holidays (Font-Romeu)
With 148 holiday apartments spread over 4 floors, the Residence Appart'Vacances Pyrenees 2000*** will enchant you! All our holiday apartments in Pyrenees 2000 can accommodate between 4 and 8 people with their area ranging from 25 to 50 m². Too tired after a day of skiing? There is a lift there to take you home.
Make yourselves comfortable - our cosy residence is yours to enjoy! You will feel right at home, with everything you need right there:
A living room with a 2-person sofa bed;
An office space, where you can write postcards rather than work;
An equipped kitchen area which opens into the living room, with: fridge, dishwasher, microwave, hotplates, extractor hood, coffee maker, dishes, kitchen utensils, vacuum cleaner;
A flat screen TV;
A bathroom with a bath, sink, hairdryer and toilet;
A balcony or terrace with garden furniture, with a mountain view according to your wishes!
The Residence Appart'Vacances Pyrenees 2000*** comes with equipment which will delight guests both young and older. After effort comes comfort: a wellness area awaits you, with a sauna and hammam. Want to warm up before going skiing? Head to the workout room! For family fun, you can enjoy the games room, which includes a ball pool for the youngest guests!
A bit hungry? Look no further; we can recommend 4 addresses where you can taste various local dishes and specialties: Le Lassus, L'Ermitage, La Ferme de Lloses and La table des Saveurs. Enough to satisfy the appetite of any foodie!
Are you not an early bird? Reserve your breakfast or order pains au chocolat and croissants with the bakery service of your residence!
Do you like to toast your sandwiches and drink hot tea, or do you need a perfectly ironed shirt for dinner? Don't panic, we'll lend you a toaster, kettle and ironing board at reception!
To restock your fridge, since you are at home here, there is a Casino supermarket 500m away from the Residence Appart'Vacances Pyrenees 2000***.
You can share photos and videos of your raclette parties and runs down the slopes, thanks to the Internet access available at reception and in accommodation. And it's totally free.
A ski locker is available in your Pyrenees 2000 accommodation, where you can quietly take off your shoes and store your stuff in total security.
You also have a parking space available, whether for a day or a week, in our indoor parking area. This way - no need to scratch before leaving!
The best Pyrenees 2000 accommodation
The Residence Appart'Vacances Pyrénées 2000*** is in an ideal location, right in the mountains, in the heart of the Pyrenees Catalanes Regional Nature Park.
In the charming village of Bolquere Pyrenees 2000, perched at 1,800 metres above sea level (nearly 2,000!), you will be able to rejuvenate and be amazed. Its narrow alleys, its stone dwellings, its pretty fountains... a real mountain atmosphere for those wanting a change of scenery! The chalets scattered in the forest at the exit of the village perfect this truly postcard-worthy landscape!
Your holiday village is located on the high plateaus of Cerdanya, with a magical view of the Pyrenees Orientales massif and the Cambre d'Aze. You will no longer know where to turn to take your photos!
Do you (still) want to have stars in your eyes? Head along the 63 km yellow train route with your family to enjoy the Cerdans landscapes from Saillagouse to Villefranche-de-Conflent.
Good news: the ski slopes are located only 400 metres from the Pyrenees 2000 Font-Romeu ski resort - aren't you lucky!
Accommodation, equipment and ski pass only a click away!
To save time: book your accommodation, ski pass and equipment all at the same time on our Vacanceole website! All you have to do is collect your equipment from one of the four Skiset shops present in the Pyrenees 2000 area and your pass will be given to you by hand when you arrive at your accommodation.
Appart'Vacances Pyrénées 2000***: your holiday accommodation in the mountains
The Bolquere-Pyrenees 2000 ski area is a paradise for skiers, whether seasoned or amateur. Here, winter sports enthusiasts have enough to satisfy their desire to hit the slopes. The resort in figures:
2,213 metres altitude;
43 kilometres of slopes;
111 kilometres of Nordic skiing - 18 marked trails;
15 green slopes, 9 blue ones, 8 red ones and 9 black ones;
23 ski lifts;
1 snowpark;
3 toboggan runs;
11 snowshoe trails;
Fun areas for the youngest guests.
Whether it's winter or summer, you will have fun! There are diverse and varied activities which will allow you to enjoy the flora and fauna: hiking or horse riding, white water sports for sensations (rafting, canyoning, hydrospeed etc.), fishing, quadbike, all-terrain biking routes for sporty types... there is something for all tastes!
You really can't get bored in Pyrenees 2000: the sports complex/leisure centre Le Termanal is open throughout the year and it offers many activities in the heart of nature: racket sports (tennis, squash, badminton), collective sports (indoor football, basketball, handball etc.), and even a gym/training room.
In the evening, get in the mood! The Elan bowling place, arcade games, billiards tables and bar are all waiting for you within walking distance of your accommodation. Are you lucky at the games? Bet everything at the Font Romeu Casino! And if you are not yet ruined, enjoy a night at the cinema nearby!
Do you want to party after a good raclette? Head to the Papagayo disco and hit the dancefloor! Sport-loving night owls can try night-time skiing - a magic activity for winter sports enthusiasts!
A residence with the Green Key label for your green holidays in the Pyrenees
Your residence in Pyrenees 2000 is part of the 24 Vacanceole accommodations with the Green Key label, which guarantees responsible holidays and sustainable tourism. Since 2017, we have been committed to a CSR (Corporate Social Responsibility) approach on all our sites. Our environmental charter allows us to contribute, as a whole, to respect territories, resources and residents. As part of this, each establishment has an adapted policy, depending on local practices: recycling, low consumption light bulbs, LEDs, flow regulators on taps and showers, green action, local products etc.
L'Eterlou restaurant
Good products, a varied menu, hearty and homemade dishes: you can go and eat in this restaurant, it's a sure bet!
Quad, pedals and snow
And why not vary the activities a little? Come and try quad biking, an ecological leisure activity, supervised by an instructor. New sensations guaranteed.
4 bis, avenue du Serrat de l'Ours
66210 BOLQUERE
FRANCE
Opening hours of the reception
subject to change
High season and school vacations
From the start of the (French) end-of-year vacations to the end of the (French) winter vacations and from early July to early September
Daily from 8am to 11am and from 4pm to 7pm
Low season outside school vacations
From early December to the start of the (French) end-of-year vacations and from the 1st Friday in June to the end of June
Daily from 8am to 11am and from 4pm to 7pm
Arrival from 5pm
Departure until 10am
In case of late arrival, please call +33(0)4 68 30 85 30
Cancellation policy
Free cancellation up to 14 days before arrival.
✅ Full refund : get back 100% of what you paid (excluding booking fees and insurance)
✅ Available on Vacancéole residences and private rentals (excluding partner residences)
✅ Full refund on Ski passes and equipment rental up to D-14
✅ No proof required
✅ Our teams are at your disposal to cancel your stay and help you find an alternative.
After this deadline, 100% of the cost will be retained.
How to get there
By train
Font Romeu-Odeillo-Via SNCF station - 7 km
By plane
Perpignan-Rivesaltes Airport - 89 km
4 bis, avenue du Serrat de l'Ours
66210 BOLQUERE
FRANCE
High season and school vacations
From the start of the (French) end-of-year vacations to the end of the (French) winter vacations and from early July to early September
Daily from 8am to 11am and from 4pm to 7pm
Low season outside school vacations
From early December to the start of the (French) end-of-year vacations and from the 1st Friday in June to the end of June
Daily from 8am to 11am and from 4pm to 7pm
Arrival from 5pm
Departure until 10am
In case of late arrival, please call +33(0)4 68 30 85 30
Faire un itinéraire
By train
Font Romeu-Odeillo-Via SNCF station - 7 km
By plane
Perpignan-Rivesaltes Airport - 89 km